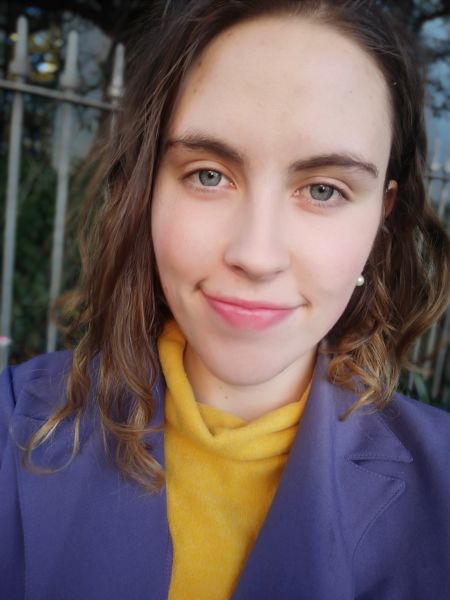 Chloe Kelly
UNSWeetened Coordinator
Bachelor of Media Arts (Honours)

What excites you most about UNSWeetened?
The thing that excites me most about UNSWeetened is in the beauty of it being a student publication. UNSWeetened is a space in which student voices can be heard, their feelings expressed, and their work seen. I am endlessly excited to be a part of this process and to give back to the wonderful creative community of UNSW. Getting to work in a space with amazing student volunteers to bring this creative cross-section of UNSW to print is a dream come true and I am excited to see where it takes us.
What is your favourite mode of creation? What have you created in the past? Are you working on anything at the moment?
As a Media artist picking a favourite mode of creation feels impossible. I love writing critical essays and satirical articles because I have a lot to say. Sometimes I write because I am angry or sad, sometimes because I am happy and a lot of the time I write because I have too many thoughts about how Stephanie Myer's Twilight saga might be the most interesting case study of Mormon desire in Romance/young adult fiction ever. So maybe writing is my favourite because it is extremely cathartic. But I am also an interactive media artist and I think most of my artworks are physical experiential embodiments of my essays/thoughts. There is something uniquely powerful about art in which the audience can experience the feeling or train of thought themselves rather than reading about them. So maybe creating art is my favourite medium. I also do a lot of digital drawing and often create video games with my partner for game jams or just because we feel like it. Lately my work has been looking at embodiment and performance in interactive installations and documentations of performance art.
What inspires you?
I think it can be hard to exactly pinpoint what inspires me. I think I am inspired by lots of things all happening at once. I'm inspired by my family and my amazingly talented husband. I'm inspired by my friends, my mentors and plenty of random people on the street. Also, nature and coffee and cake. So maybe it's not that hard to pinpoint – e.g. people, nature, coffee and cake.
What do you enjoy about the creative process?
I enjoy how exciting the creative process is. My favourite part of the creative process is the ideas phase – which is probably why I don't finish as many projects as I would like. I just love the feeling of having a new idea – a new path to go down and something new to keep my busy mind entertained for a while. It also feels good to finish something and to look back on where your ideas once were and where they are now. I enjoy the fact that once you finish a creative project usually you are left with even more ideas than you started with.
What is your first memory involving art? / What has been your proudest creative achievement?
My first memory involving art is making my mum a Mother's Day card with a little illustration on the front (from memory us hugging inside a heart). It made me feel really happy to see how much it meant to her – and even now I still make hand drawn cards for her because of that memory.