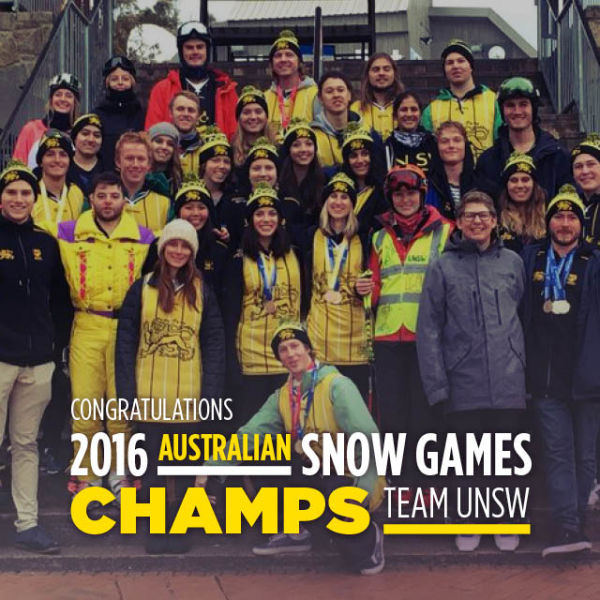 UNSW are the Australian University Snow Games Overall Champions for 2016!
Congratulations Team UNSW for becoming Australian University Snow Games Champions for the first time in 30 years!!
Coming off a historic win at Eastern University Games in July, Arc Sport went into the 2016 Australian University Snow Games with modest ambitions of a top 6 finish. Arc Sport's team of 35 student's hit the slopes of Mount Buller, Victoria for 5 days of competition from the 30 August – 3rd September.
A strong last day of competition ensured Team UNSW emerged victorious and were crowned 2016 Australian University Snow Games Champions. Arc Sport Team Manager Hagan Butler credited teamwork for the overall victory "Our strong inclusive team culture is what enabled Team UNSW to come out on top of all the other Universities and break a 30 year drought".
In addition to being crowned overall Champion's, several standout individual efforts were rewarded with Gregory Whitehead being named Men's Overall Snowboard, Roanna Humphries taking out Women's Overall Freestyle Ski Champion, Ashley Chapman-Davis taking home Men's Overall Freestyle Ski Champion and Zoe Spanos being awarded the Women's Overall Alpine Champion.
This victory continues what has already been an epic year for Arc Sport seeing record numbers of engagement in social sport, our first ever overall victory at Eastern University Games, over 5000 students participating in the Festival of Sport and significant increases in participation across Sport Clubs.