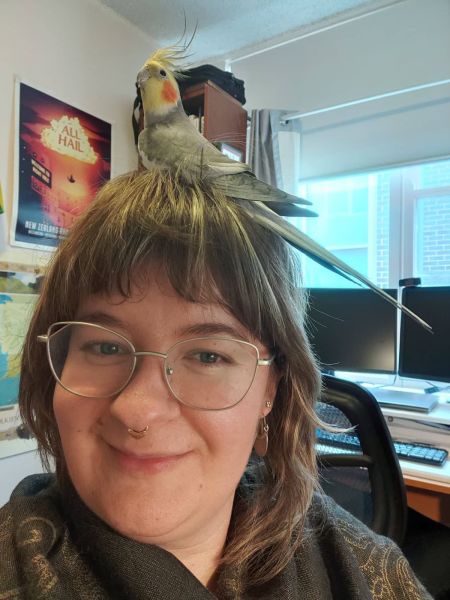 Arc

Staff Spotlight - Interview with Emily Hipsley-Davidson

Interview by Aria-Joshes Waterford

What is your role in the Arc Office?

I'm the Casual Student Student Co-ordinator at the Art & Design campus. I do lots of different things, like working with the Kudos Shop, signing newbies up for their very first Arc memberships, and working on our new website, https://kudos-online.com

Recently I've been putting together an online archive of Kudos' exhibitions, and it's been so fun to see how student exhibitions have changed through the years. Did you know that back in the early 2000's, the Kudos Award was once called Catapault? In 2014 Tony Albert was one of the judges! Cool stuff.

What do you study at UNSW?

I'm just about to finish my Masters of Curatorial and Cultural Leadership. I've missed the conversations you get in face-to-face learning, but I've got a great bunch of people in my Art Writing and Publishing class at the moment .

What's your favourite musical track at the moment?

Hand Me My Shovel, I'm Going In! by Will Wood and the Tapeworms. It has a Chaotic Beetlejuice Energy which I'm very into. It was my commute song, back when we had commutes.

What advice would you like to give to students right now?

It's so important to be kind to yourselves and look after your mental health right now. Make time to reach out to your friends and keep doing the things that emotionally refuel you. (Mine is looking after my plants and congratulating myself each time I see a new leaf, which reminds me to take care of myself as well. I also recommend this Melbourne-based app A Kinder World, which has you grow plants by answering gratitude prompts.)

Who would you like to give a shout out to?

My amazing Mum! She's been downsizing and putting her house on the market, which has been a gargantuan task. She's got a lot of gumption, and I'm excited for when she and her cat can relax in their new house.

What is your mantra when going through challenging times?

Know that hard times pass, and you have so much resilience in you, even when you don't feel like it.