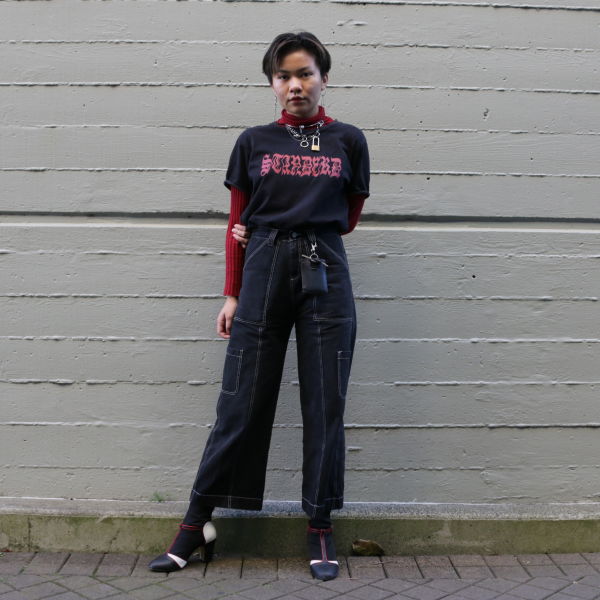 Lan Nguyễn (@orchid.strm)
What do you study?
Design/Media (PR & Advertising)
What are you wearing?
Wearing a red turtleneck and shirt I got on sale at General Pants. I bought these pants from a local clothing store in Saigon and shoes were from Kitten D'Amour. Layered jewellery that I collected over the years.
What's one thing you'd never wear?
Anything neon
How do you feel about the fashion/style on campus?
There's no stand-out fashion/style on campus but no one comes to uni thinking it's a fashion show anyways. As long as you're comfortable with what you're wearing I don't think anything else matters.
Do you have a style icon or someone's style you really appreciate?
I appreciate designers like Yeha Leung (owner of Creepyyeha) who really pushes boundaries between fetish wear and fashion. She hand-makes beautifully detailed lingerie and accessories with her partner from a studio in New York. I love that she values the quality of each individual piece even with the large amount fame she has garnered.
Are you looking forward to anything in particular coming up in the rest of the year?
Just creating more creative work and putting stuff out there in the universe!
What are you playing on repeat?
See You Again – Tyler the Creator