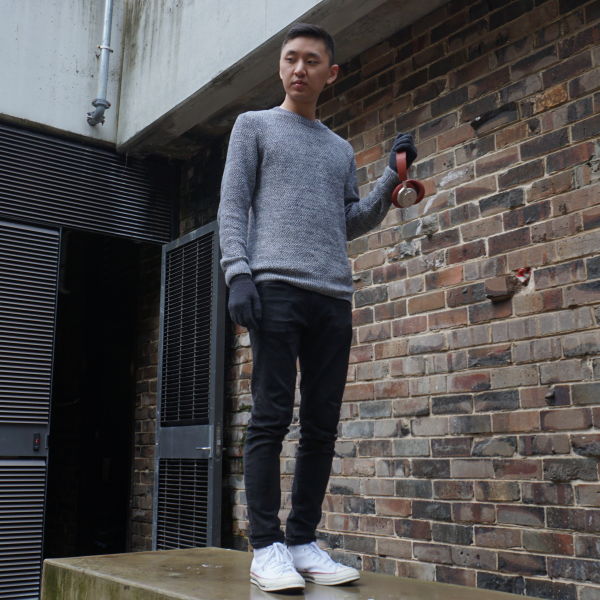 Kevin Wang
What do you study?
B Media (Screen & Sound)
What are you wearing?
I'm wearing a women's jacket, a Staple Superior rough-knit sweater in grey, some Uniqlo jeans and some Chuck-70 high-top Converse in white. And some H&M gloves that you can use your phone with.
What is something that you would never wear?
I wanna wear colours but I just don't have any... yet. I'd never wear that Borat jock-strap thing. Actually no, I'd probably wear it for shits and giggles just one time - are you really living if you haven't done that. I think I'd probably give everything a go at least once.
How do you feel about the fashion style on campus?
I mean for the most part, this is quite a STEM-focused uni, so I reckon fashion isn't everyone's number one priority. So it's okay that they don't dress as fancily as the fanciest outfits you see in the world. It's okay - it's relaxed is the best way to describe.
Do you have a style icon or someone's style you really appreciate?
I like Tyler, ASAP Rocky, I like what Frank Ocean wears. I like the people who just put anything on and it manages to look cool.
Are you looking forward to anything in particular coming up in the rest of your year?
2020. That's what I'm looking forward to. I don't have a good answer for that - I'm just playing it as it comes. I'm looking forward to the Cancel Trimester rally.
What are you playing on repeat?
See I can't play anything on repeat because Spotify's new user interface is so ugly that I can't even access. I Think, off Igor by Tyler the Creator. Not Earthquake, that's too mainstream.